Exhibition Design — Text Me: How We Live in Language
On view at the Museum of Design Atlanta (MODA) from September 16, 2017 – February 4, 2017, TEXT ME: How We Live in Language, examines the ways that language defines our lives as seen through the work of more than 60 designers and artists.
TEXT ME was curated by Debbie Millman, a designer, artist, author, educator, and host of Design Matters, the first and longest-running podcast on design. Millman has long been intrigued by the ways we use language to observe, assess, and interpret reality, from the minor moments of daily life to the primary questions of the our human existence. To explore this idea, she invited the participation of designers and artists who augment and enhance expression by combining narrative text with two- and three-dimensional objects.
There's an enormous variety of work in TEXT ME, including paintings, prints, textiles, ceramics, household objects, videos, site-specific murals, and more. The challenge in designing the exhibition was to present this compelling but diverse collection in such a way as to give each piece its due, while also providing visitors with a cohesive experience and magnifying the exhibition's interrogation of how language shapes every moment of our lives.
Designer Susan Sanders approached this challenge by creating an immersive installation inspired by the show's subtitle, "How We Live in Language." She organized TEXT ME into areas that reflect the way we live in homes, creating a dining room, a bedroom, a dressing room, a bath, a library, and a media room. The staging of artworks in these metaphorical areas intentionally complexifies the visitor experience, reflecting the multivalence of meanings that all texts carry and the ubiquity of language in our day-to-day existence. Some of the exhibitions' works are installed against eight-foot high, overlapping letters that are applied to the museum's walls. These super-graphics blur the boundaries of legibility, appearing more as serifed color fields than as traditional letterforms. Other artworks and objects beam their written messages from atop walls or from under beds, taking viewers by surprise. A number of works are craftily juxtaposed against one another to create a palimpsest-like environment in which messages compete for the viewer's attention, while building layers of meaning.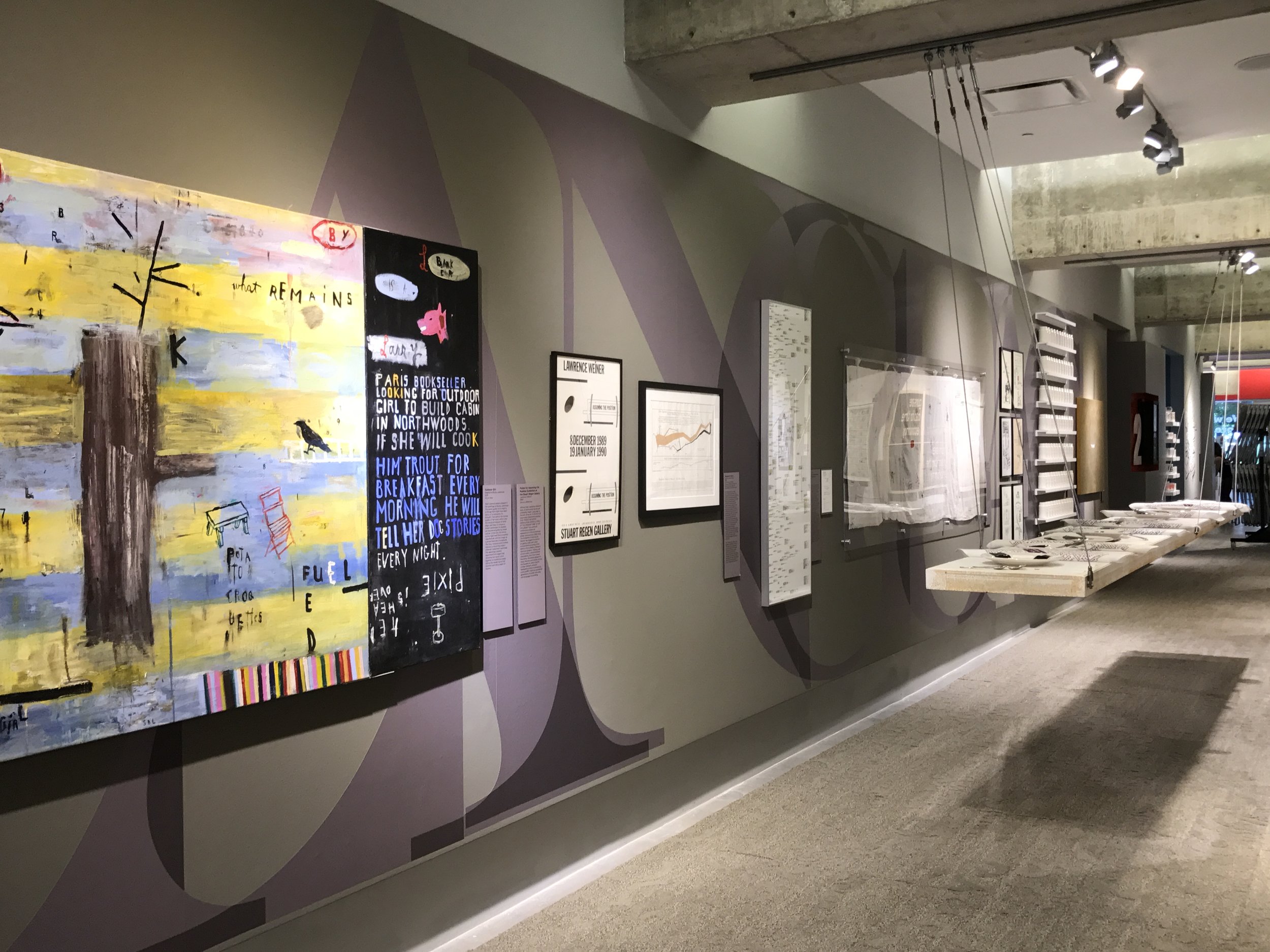 Viewers begin their journey in MODA's Hall Gallery where a 22-foot-long suspended dining room table creates a central axis and provides a horizontal surface on which to display an richly-layered array of objects including plates by James Victore, napkins designed by Tucker Nichols for THE THING Quarterly, and pages of a Cotton Calendar by Maison Margiela that serve as table linens. Gallery walls flanking the table are hung with work suggestive of topics of conversation that might arise at a dinner party, including Everything I Heard and Saw in Rome, an embroidery by Maria Kalman; My Day in Interruptions and Notices by Giorgia Lupi; and Bottled Up Feelings, an installation by Adam J. Kurtz.
The Back Gallery — a voluminous three-story space — is loosely divided into areas that evoke a bedroom, dressing room, living room, library, and bath. Sanders imagined the "bedroom" as home to a teenage girl and designed an over-scaled bed that is made up with politically charged pillows by Adrienne Grace and a bed covering quilted by Kerry Larkin of Comma Workshop that reads "Her Story is Strange," an homage to Maira Kalman.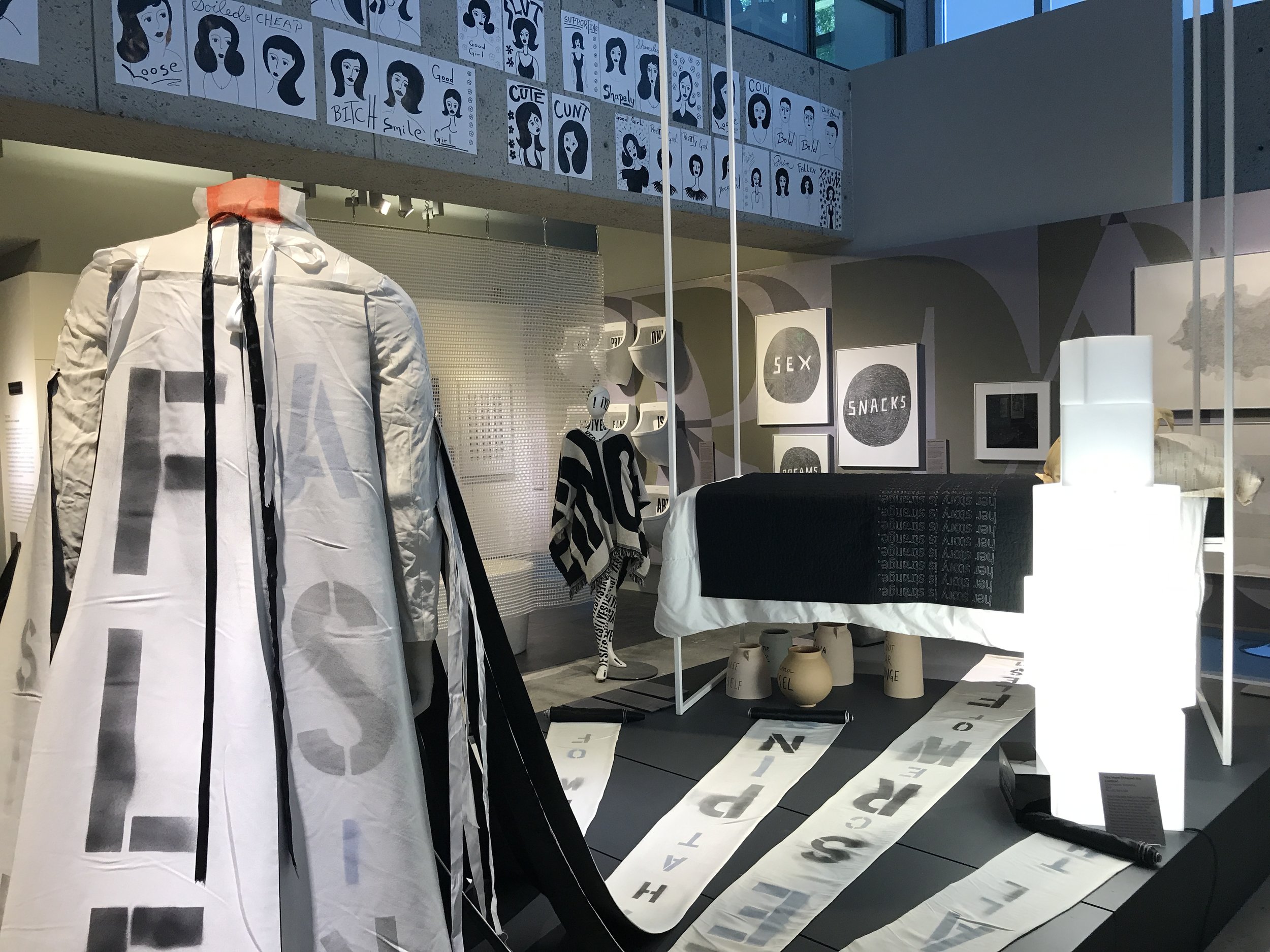 The walls of the "bedroom" are adorned with works that could fuel daydreams or nighttime fantasies. A portrait of a young girl with her eyes closed by Oliver Jeffers reads "You Can't See Me." Also on view are a textual study of passion in Romeo and Juliet by Sam Winston, whimsical illustrations featuring the words "Sex, Snacks, Dreams, Cats" by Brian Rea, a night scene painted by Jane Dorn, and a site-specific mural by Timothy Goodman titled Memories of a Girl I Never Knew in which the narrator muses upon his search for true love. Ceramic vessels by Rodrigo Corral bear phrases like "Cleanse Yourself" and "Karma Vessel" and communicate with the viewer from under the bed.
Adjacent to the bed, a striking garment stands in a "dressing area." The I Dismantle Suit, designed by Lesley Dill, is made from printed scrolls that unfurl to a diameter of 30 feet.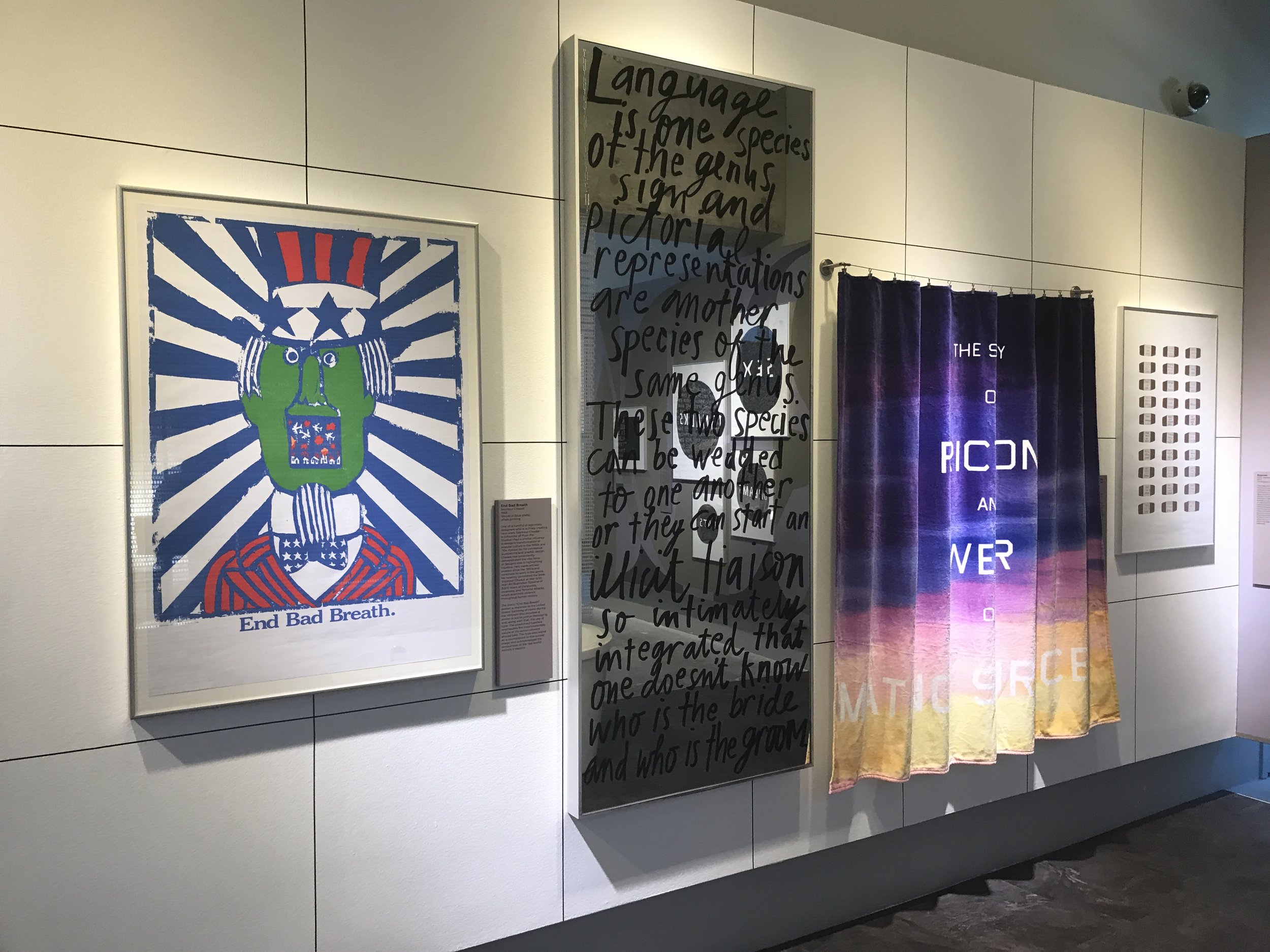 The "bathroom" features an installation of nine urinals created by Ken Carbone, a tribute to the centennial of Marcel Duchamp's Fountain. Nearby is Seymour Chwast's famed End Bad Breath print, while a sand-filled bathtub invites visitors to "draw a bath" by inscribing ephemeral messages on its grainy surface and a mirror bearing a passage from Betrand Russell gives visitors an opportunity to see (and take photos of) themselves as inscribed beings.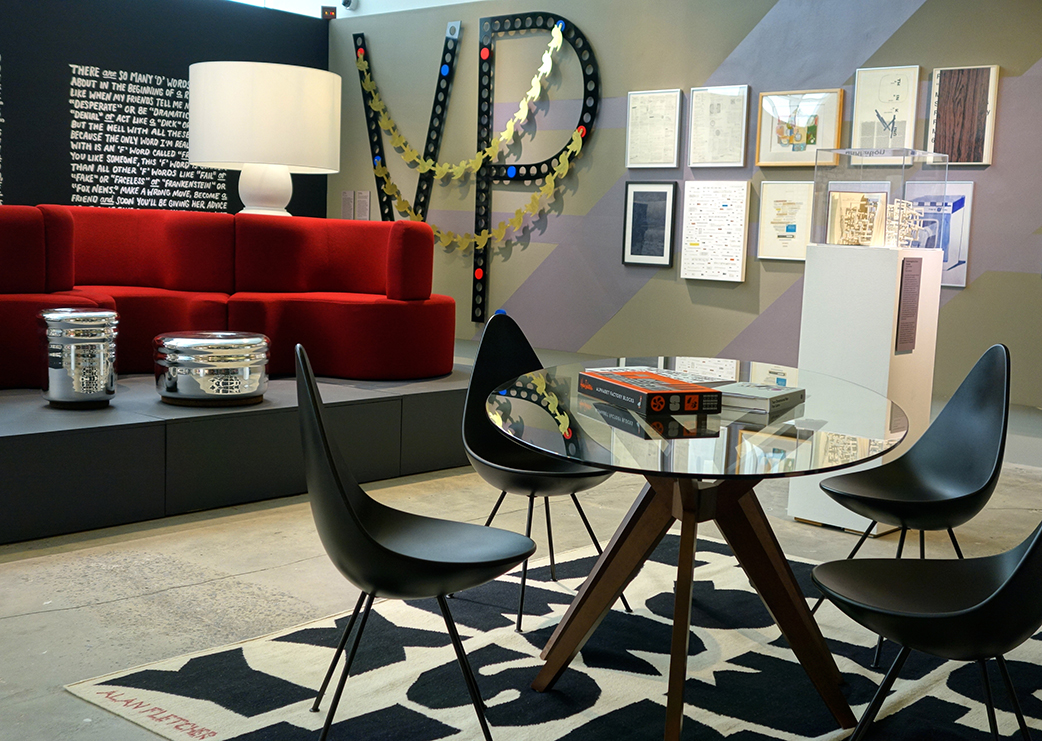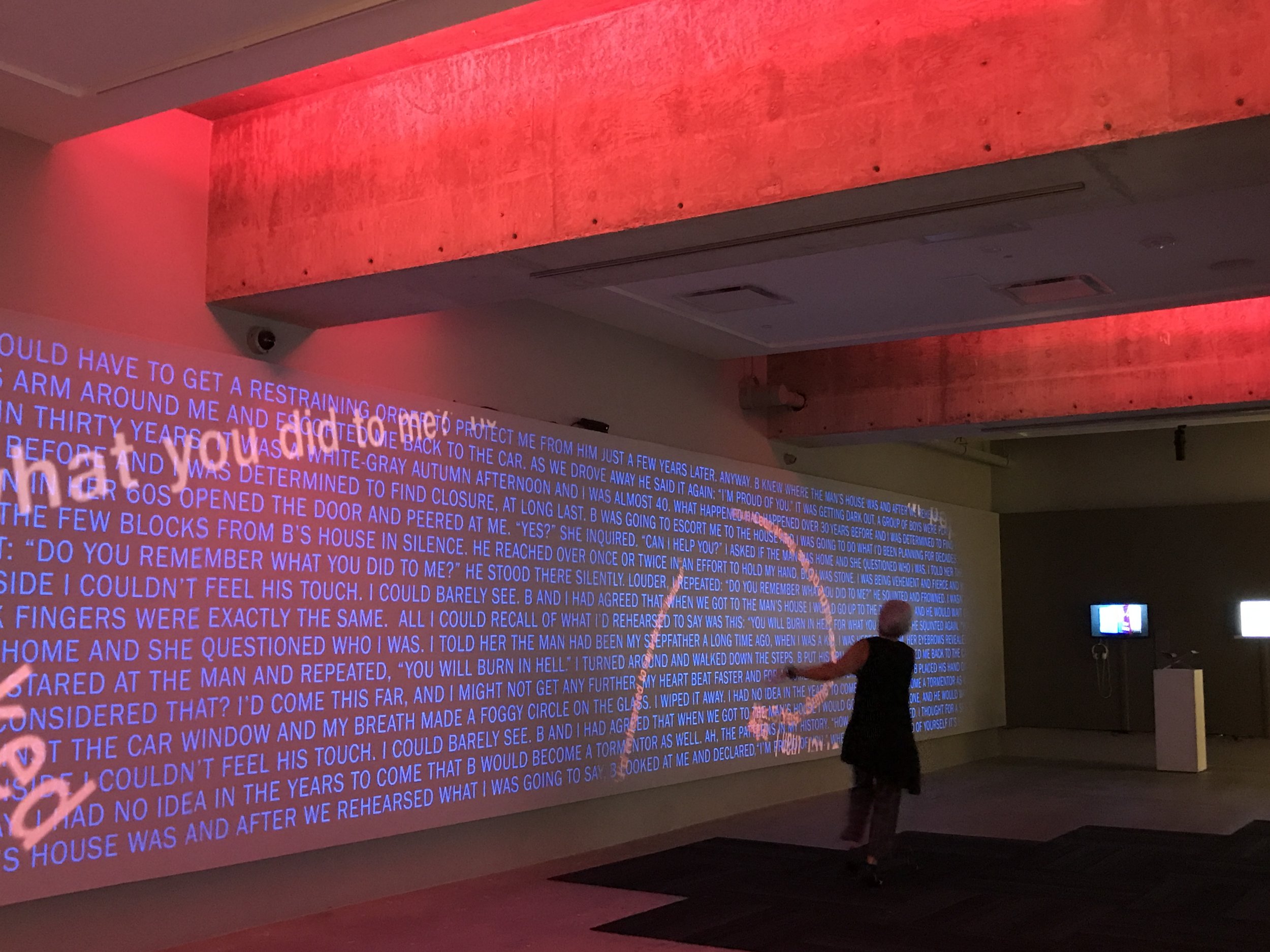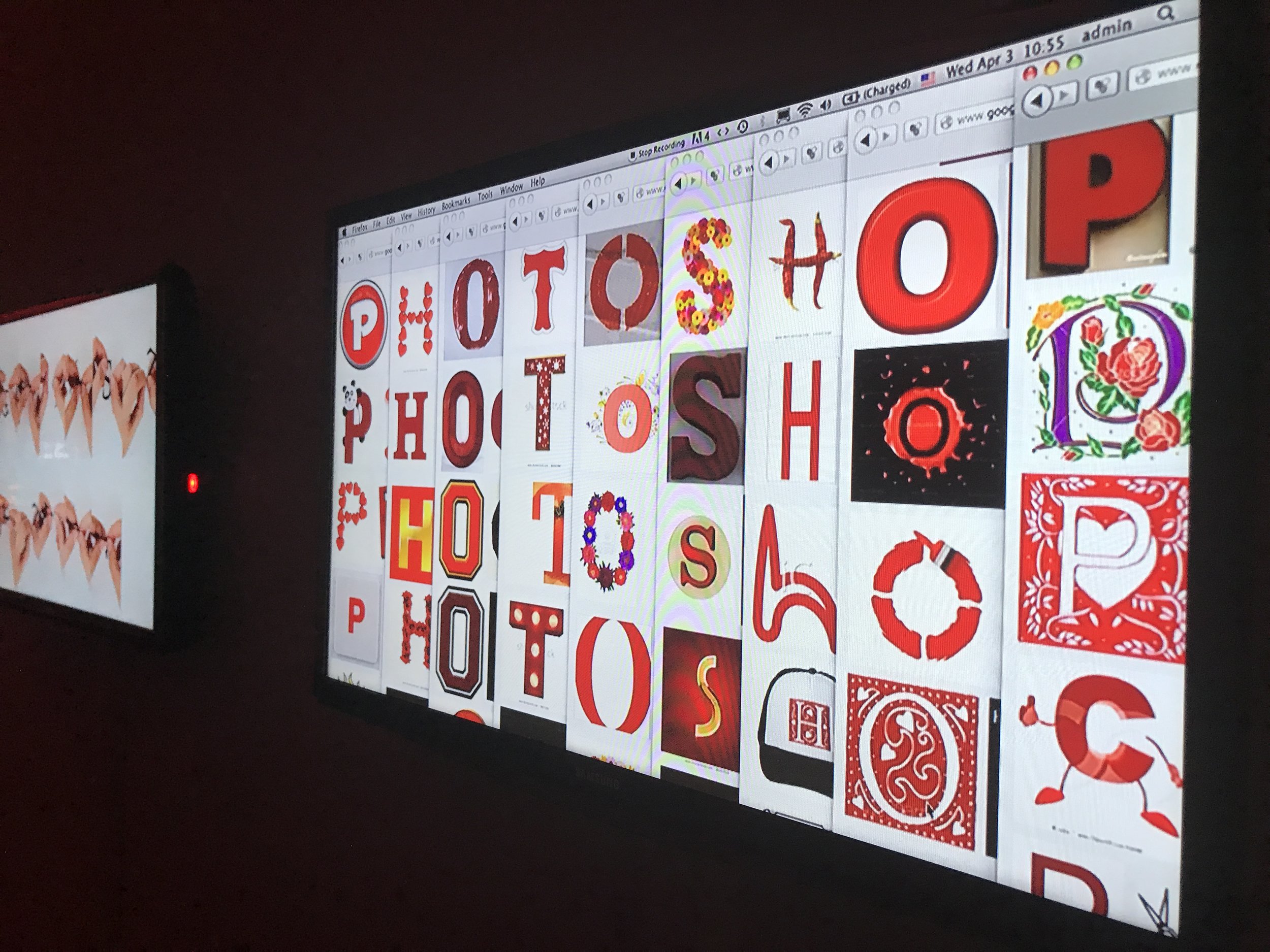 The museum's Side Gallery acts as a "media room." On a 50-foot wall, Primal Screen created an installation that allows visitors to manipulate a scrolling narrative by "throwing" its next line onto the wall as they wave their arms, kick their legs, and move about the room. Opposite, experimental typographer Oded Ezer pushes text beyond its usual limits in eight short films; videos, objects, and artworks by Santiago Carrasquilla and Stefan Sagmeister and Jessica Walsh, evoke the idea of play as a key to happiness and encourage us to "be more flexible;" and one of Paula Scher's map paintings glows if reminding us that language is one of the most important (if often inexact) tools we have for charting our way through life.